Get Ready For Spring With QuickShip Furniture Options
Get Ready For Spring With QuickShip Furniture Options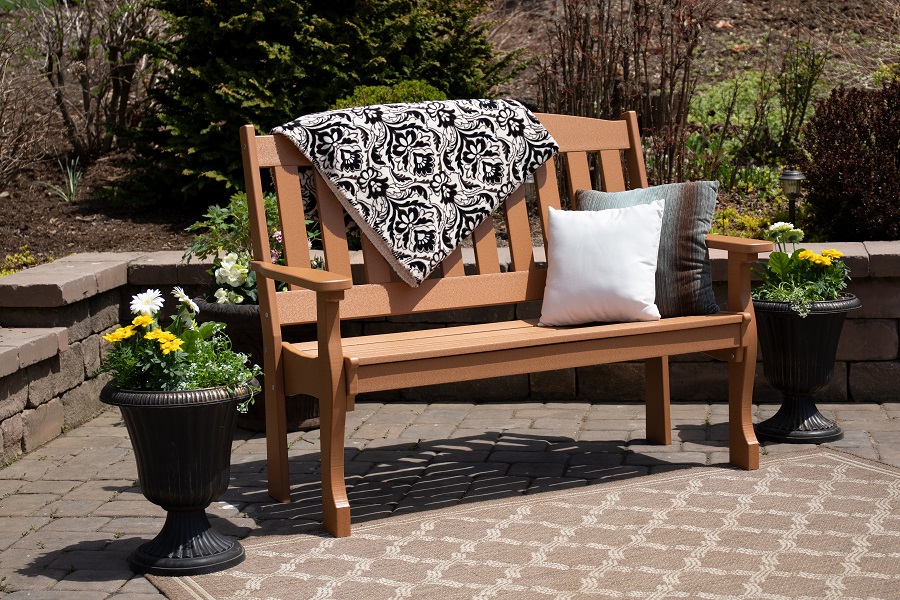 Spring is officially only weeks away, and we all know what that means – more time spent outdoors enjoying the weather and the beautiful blossoming of nature. If you have been wanting to spruce up your outdoor living space, don't wait until the last minute. Get a head start on ordering, and you will have your new furniture in plenty of time for the warm weather.
We have some great options for you with our easy-maintenance poly lumber Adirondack furniture. It is mildew-resistant and won't splinter, crack, or warp. It cleans easily with mild soap and water. And it looks great in any backyard setting!

Dining Set - Color Options Galore
There's nothing like enjoying a meal on your outdoor patio at sunset. If your dining set looks weather-worn, enhance the look of your patio with an attractive, low-maintenance option. This Patiova 7-Piece Adirondack Dining Set is made with easy-care poly lumber and comes in several colors – or combine colors for a unique look. The 4-by-6-foot table has a stainless-steel reinforced frame and comes with six Adirondack-style dining chairs, perfect for family dinners or hosting friends for brunch.
For smaller families or those who prefer round versus rectangular seating, Patiova also has a 5-Piece Adirondack Poly Dining Set with a 54-inch table plus four chairs, in the same color options. These custom-made sets can be ready in just four weeks if you order now.
If you prefer bar-style seating for cocktail hour on the patio, check out this 5-Piece Adirondack Poly Round Bar Set, which is made to order in the same colors as the dining sets. The stainless-steel reinforced table is 40 inches high and comes with four high-back chairs. If you like a little swivel to your seating, an Adirondack Swivel Bar Chair is also available. 5 Piece Adirondack Poly Round Bar Set
The Best Seats Outside The House
There will be many days in the months ahead when sitting outdoors is simply a must because it's too nice to be cooped up inside. Reading a book, chatting with neighbors, watching the children play, or simply sipping a cold drink are some of the many activities that can be enjoyed outdoors. If you need to update your seating options before the warm days kick in, low maintenance is the way to go.
Adirondack style not only fits that bill, but it is super popular, stylish, and comfortable. The high backs on Adirondack chairs can accommodate even those on the tall side, and matching footstools can have you propping your feet up and kicking back in no time. This Adirondack Deluxe Set has a chair with a built-in cupholder and a matching stool and table.

If you are a bird watcher, a gardener who enjoys viewing your handiwork, or just need a place to sit while your dog plays, a bench could be just what you are looking for. Place it on your patio, in your backyard, or on your front porch to watch the street action. These seats accommodate two people and are perfect for couples. This 4-Foot Adirondack Bench is made with high-quality poly lumber made from recycled plastic and fastened with stainless-steel hardware. As with all the Patiova Adirondack collection, choose your colors and get your bench in a few weeks. Adirondack Deluxe Set
Who Says Swings Are Only For Children?

Swings are the quintessential children's activity, but who says adults can't enjoy them too? Just as the rocking motion soothes a baby or small child, rocking in a swing can be quite pleasant at any age. Add a swing to your front porch or back patio seating, and you will see friends and family gravitate there. In keeping with our Adirondack theme, an Adirondack-style swing can round out your outdoor furniture collection, with years of gentle swings to come. This 4-foot swing for two is made from high-quality poly lumber and comes with stainless-steel hanging chains. It's plenty big for adults but your children just may enjoy it too. 4' Adirondack Hanging Swing
Samples of our Adirondack furniture are available to view in-store. For information or to place an order, stop by the store, call 717-625-1353, or email [email protected].
×