The Art of Mixing and Matching: Combining Different Types of Wood in Your Home
The Art of Mixing and Matching: Combining Different Types of Wood in Your Home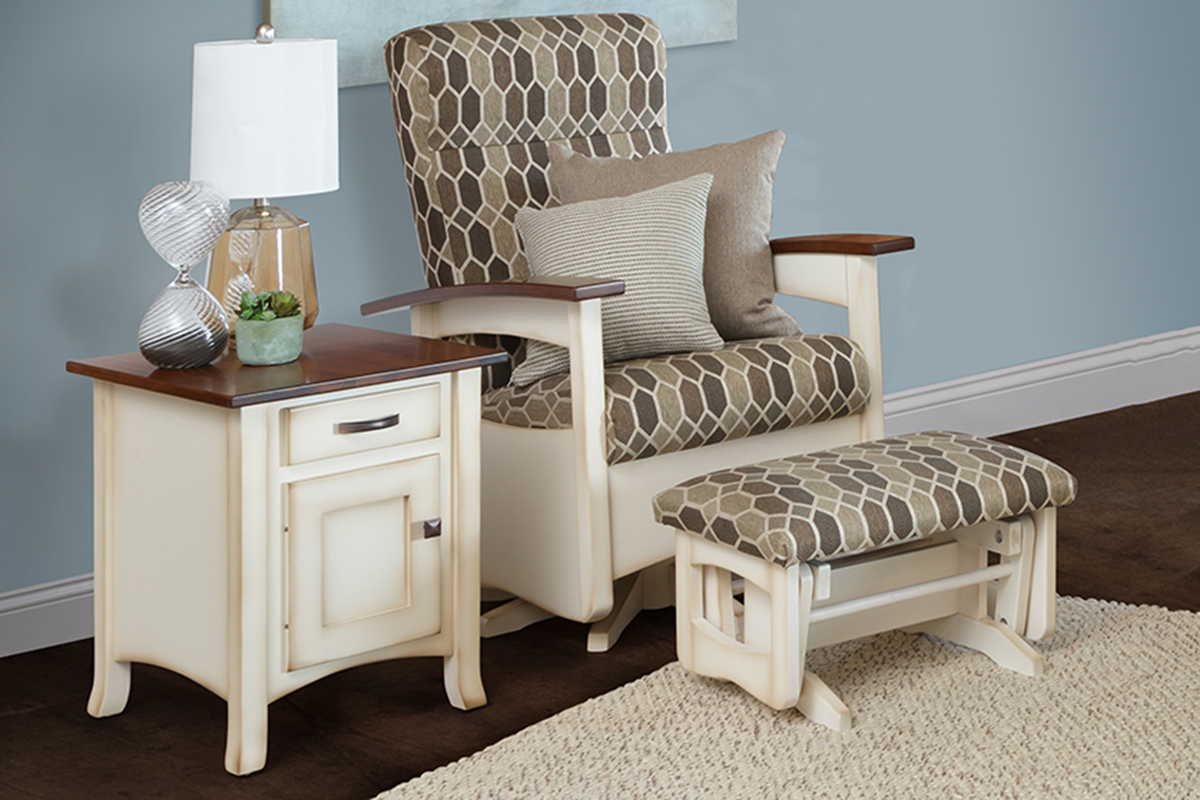 Few households are decorated all at once. Most of us tend to decorate – and redecorate – our homes multiple times throughout a lifetime. Tastes change, styles come and go, and budgets fluctuate. When it comes to decorting your home with handcrafted furniture, though, many of us hesitate, not knowing if a new piece will coordinate with what we already have at home. Good news! Interior decorators agree that mixing and matching wood types can make a home more interesting and appealing. Just like having only one paint color throughout can be a bit blasé, the same can be true with furniture that appears too "matchy-matchy." You can mix it up, but remember some guidelines when deciding what woods go together.

Rule of Thumb When Mixing and Matching Woods
Here are a few key things to remember if you want to mix and match different types of wood furniture:
Balancing Wood Types in Handcrafted Furniture:
Start with a main wood, either light or dark, and go from there. If you have wood floors, those will generally be your most prominent, or primary, wood. Or, you might have a statement piece such as a coffee table or dining room table that dominates the area. Repeat the wood throughout the home, but be sure not to overdo it. While repetition will create harmony, you want to make sure that, for instance, all the dark wood is not on the same side of your room. Throw a coordinating piece into the mix to create interest and balance.
Understanding Wood Tones:
Decorators say the tone is important when choosing furniture pieces that go well together. It's okay to mix lighter and darker wood stains but keep within the same tone family – warm or cool tones. Most natural, unstained woods, such as oak, walnut, and cherry, have warm undertones. But wood can be stained with warm or cool tones. Stained woods with red, pink, or orange undertones are warm; woods with purple, blue, or green undertones are cool. Mixing the two can clash instead of complementing your furniture.
Choosing Wood Grain and Texture:
Wood can have smooth grains (like maple or cherry), which tend to give off a polished or formal vibe, or more visible grains (like oak) that add a more casual feel to a room. Similarly, wood textures, whether varnished, knotty, or one of many textures in between, can be mixed to create contrast in a room. If you fear too much formality, for example, try adding a large-grained wood piece into the mix for a touch of coziness. This Loft Desk with Hutch, combines reclaimed barnwood with maple for a homey, rustic feel.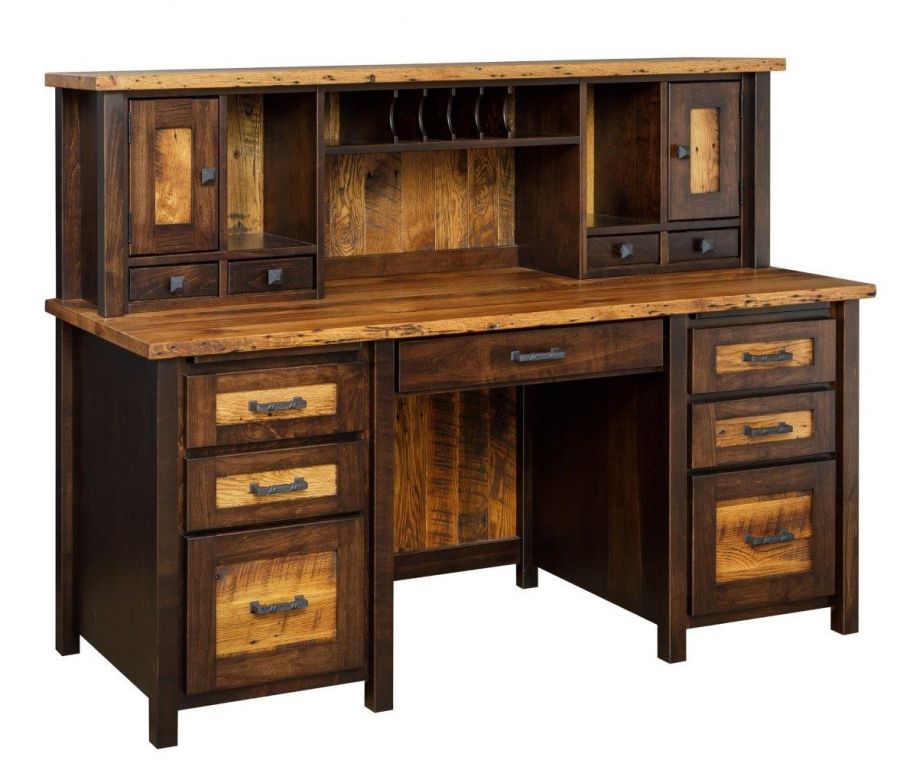 This Loft Desk with Hutch, combines reclaimed barnwood with maple for a homey, rustic feel.
Creating Contrast with Different Woods:
Contrast is an easy way to make your home interesting, according to decorators. Contrast dark woods with light, or smooth textures with rough ones. These days you can even purchase a single piece of furniture with contrasting woods that balance light and dark, or small grains with larger ones. This Denmark End Table combines maple and elm woods for a two-toned look to give an eclectic, but balanced, feel. It is available in several finishes.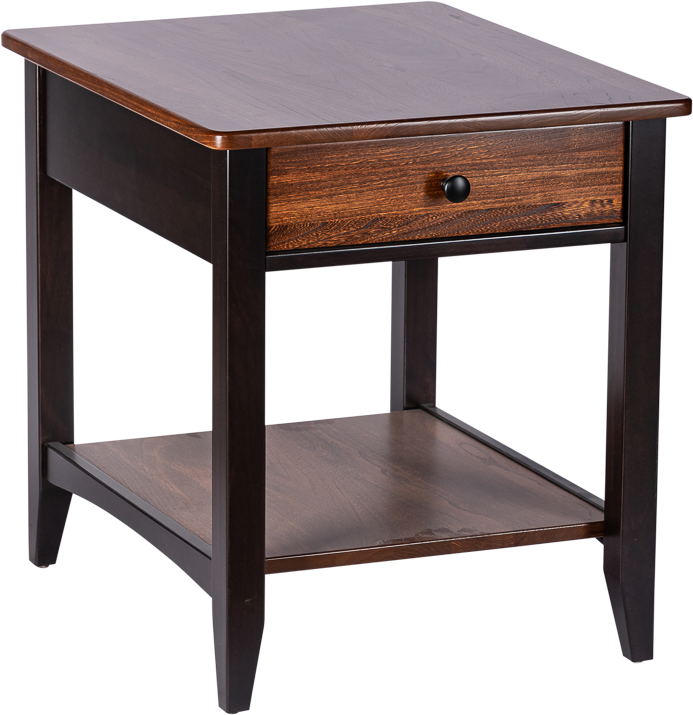 The Denmark End Table combines maple with Elm to provide a balanced two-tone look.
Additional Tips For Mixing It Up
If you feel like you have gotten into a furniture rut, help is out there. Find photos of rooms that you love and see how the furniture is mixed and matched. It's a great way to get ideas for your own home (in home decorating there's no such thing as a copycat!). If a certain style, such as modern farmhouse or rustic, appeals to you, find pieces that will complement what you have while giving a touch of the look that you desire. For example, if you have a traditional dining room table, add a touch of the farmhouse element with a painted piece such as this Seaside Buffet, available in cherry or maple. It comes in a variety of paint and wood finishes.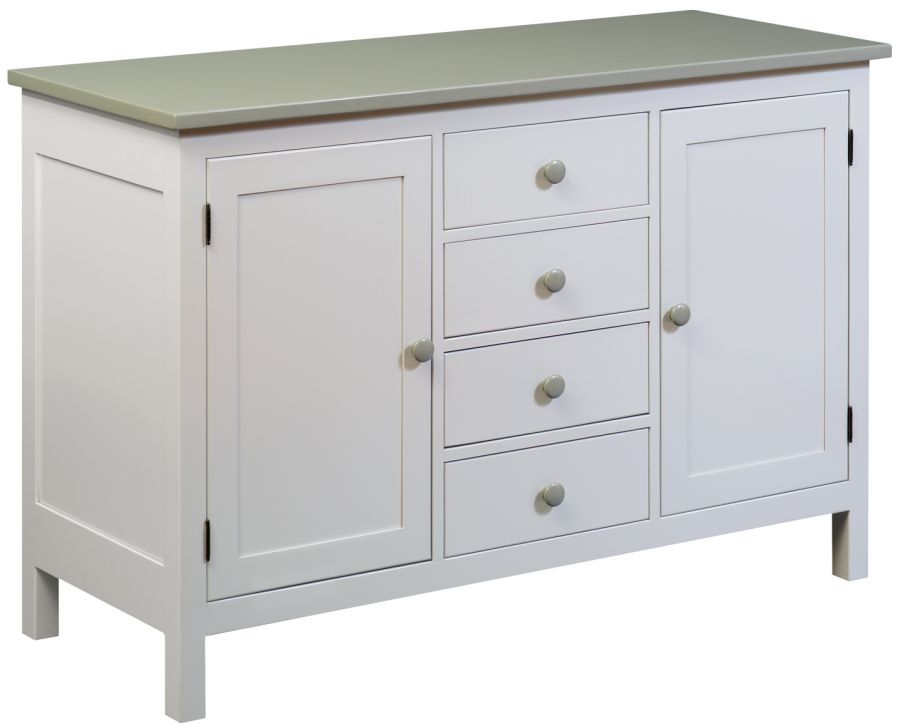 Our Seaside Buffet provides a cooler tone to convey a fresh and clean atmosphere.
When mixing and matching furniture, whether you're going for high contrast or tone-on-tone, we have already mentioned choosing furniture with similar undertones. Beyond that, design experts advise keeping the number of stains to two to three so as not to overwhelm your decor with too much variety and create a chaotic feel to your rooms. Remember cohesiveness is key. If you are unsure how well newer pieces will work with existing ones, just ask us for samples of the finish colors before you order your furniture.
Also, consider small changes that will make your space more appealing. For instance, a wood bowl or picture frame in a contrasting color can enhance the look of your space, as can wood shelves or a wooden coat rack. Consider elements to separate your woods, such as area rugs, which can form a visual barrier between floors and furniture and also add texture to the room.
One last tip to make your wood furniture shine is to keep a consistent color scheme in your home. In other words, don't get too busy with paint, fabric, and accent colors – generally, three will do – and you will be sure to provide the perfect backdrop to your wood furniture. Remember these simple rules for mixing and matching different types of wood in your handcrafted furniture, and you're sure to create a space that's uniquely yours. Ready to start your journey? Visit us today!

×